As a bit of a reboot until things can be backfilled, I'm jumping ahead in trip reports to mid-2016.
As a oneworld Emerald, we were able to stop by the first class lounge at LAX.  Due to apparent lounge rules, it's not possible to hop between the business class and the first class oneworld lounges in the Tom Bradley terminal.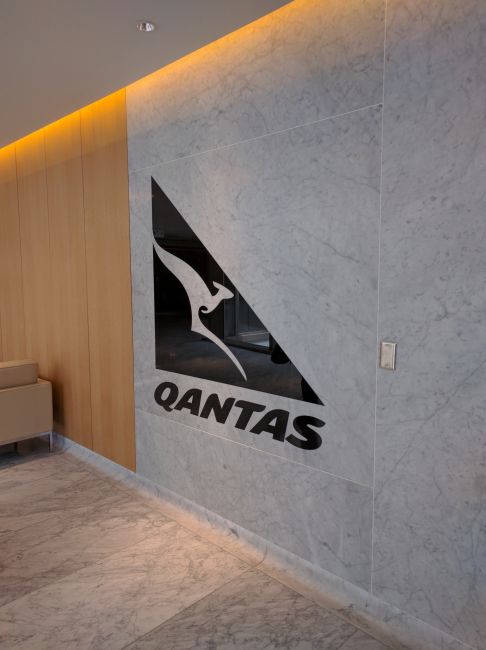 The lounge features a large seating area looking inwards towards an atrium, a bar, and a sit-down dining area.
The far end of the restaurant overlooks the security checkpoint and ticketing hall.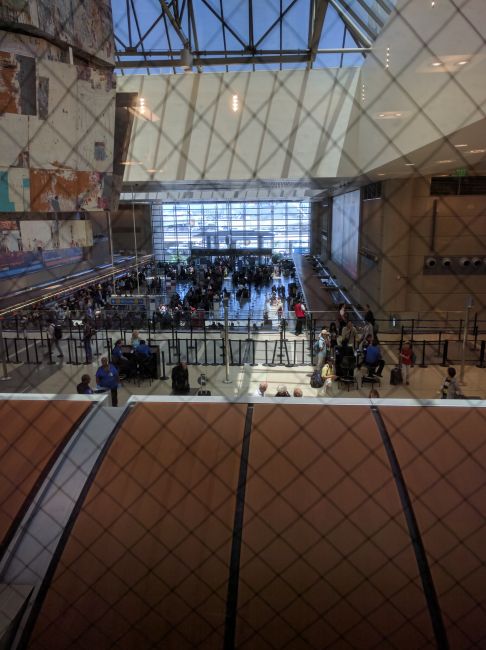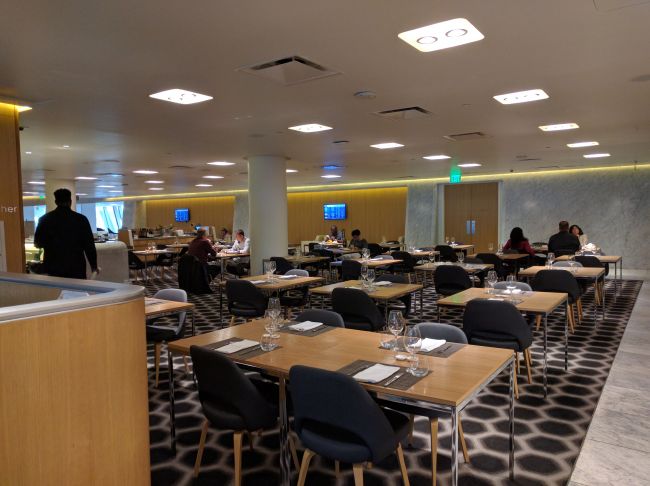 As our flight to Osaka was delayed, we sought out lunch from the restaurant which offered tasty (and complimentary) fare in contrast to the terminal outside or the Admirals Club in adjoining Terminal 4.  The lunch menu read as follows: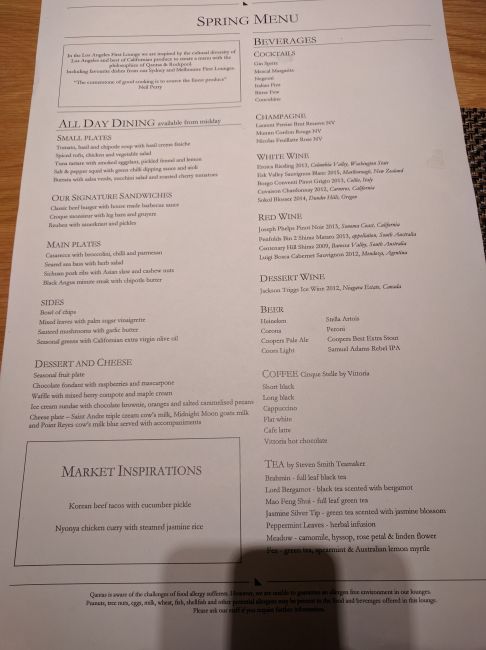 Lunch service wasn't quite ready to begin, so we wandered around the lounge for a bit.  Between waiting for lunch to start and the length of service of a three course meal itself (from appetizer to dessert took about an hour), this was not a quick bite before catching a flight.
I started with the spiced tofu salad, dropping the chicken.  My girlfriend ordered the salt and pepper squid.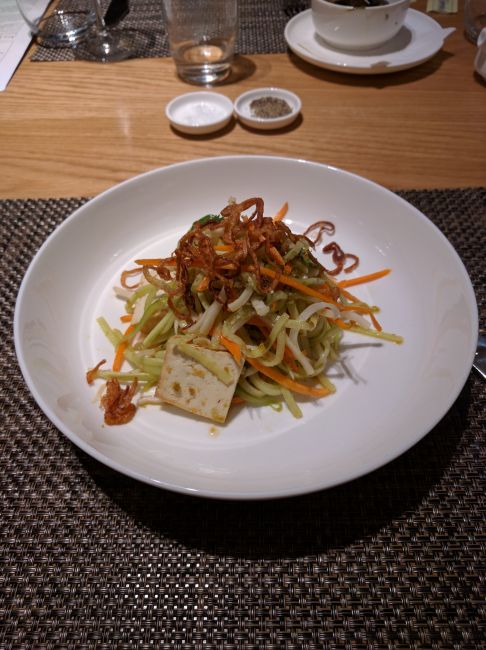 Additionally, we ordered a set of sautéed mushrooms in garlic butter for the table.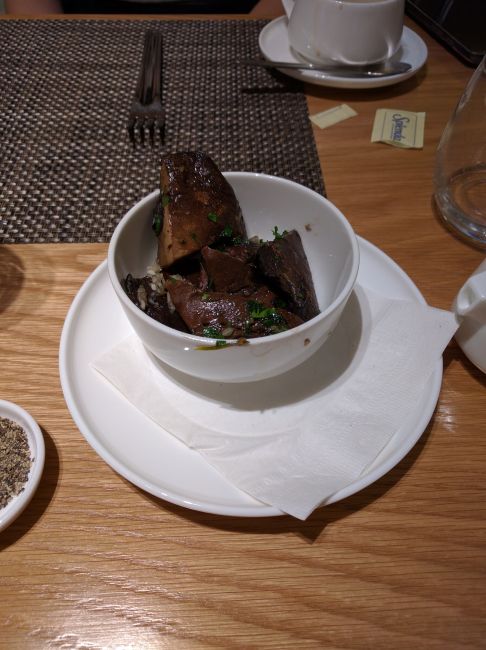 I ordered the casarecce with broccolini, chili, and parmesan as my main course.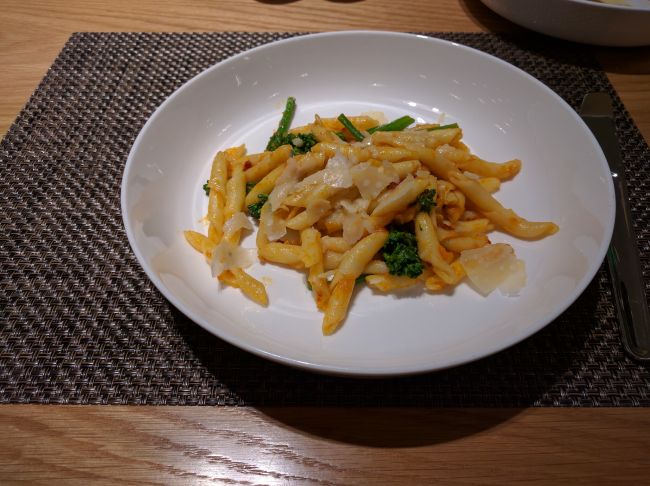 For desert, we picked the chocolate fondant with raspberries and marscapone.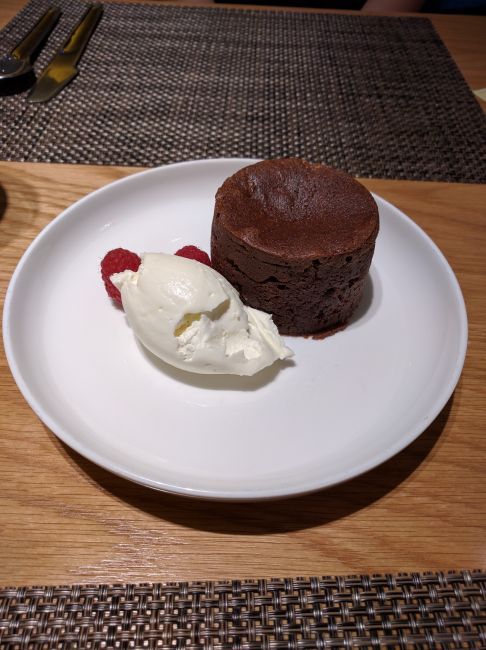 Outside of the restaurant, though, the immediate, self-serve food offerings were a bit sparse.
It is possible to order from the restaurant menu while sitting elsewhere in the lounge:  We asked for a fruit plate from the staff and had one delivered to our chairs.  Nevertheless, I'm not quite sure where this would leave you if the restaurant was changing over from breakfast to lunch as it was when we first arrived.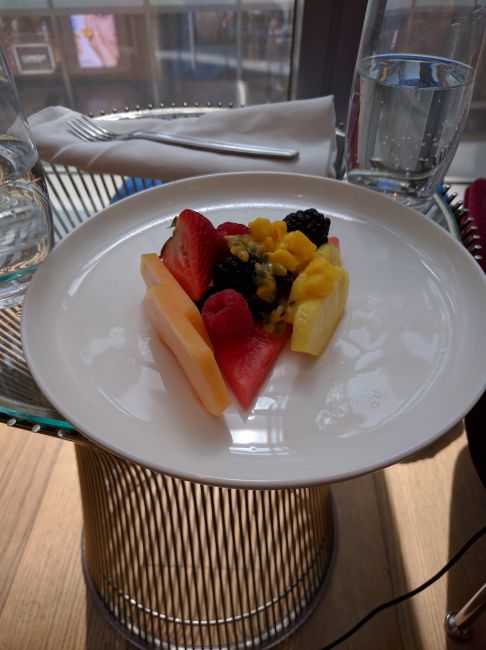 With a bit of time to kill, we hopped over to the KAL lounge across the hallway using Priority Pass.  The lounge was a bit more crowded than the Qantas lounge, and the self-serve food less interesting.
The KAL lounge, however, did manage to have plentiful outlets everywhere, thereby resolving one of my biggest pet peeves when traveling.